Benvenuti to all my lovely Loyal and New Followers
Hurrah, at last, our local village of Fiano has a new Cafe Bar and Alimentare after more than six months without being able to buy a coffee!  It is now called 'La Dispensa' which translates to larder or pantry. The Local butcher and his wife have completely refurbished the old one and yes, they have a meat counter, but you can also buy everything else you might need like fruit, veg, bread, cheese, milk, wines, beers, and frozen stuff.  Oh, yes and there is a bar for that all important coffee or aperitivo manned by their lovely daughter and they told me this morning that papers will be available to read from Tuesday!  They will be open every day, but not Sunday Evenings.  Well, thank god for that, Fiano at last has a heart again.
Meanwhile, down in Certaldo the Mercantia has been going at full swing and cars were piling into the town on Saturday evening.  To avoid this massive influx of Italians and tourists, we drove in the opposite direction for supper at C'era una Volta, or 'Paolo's' as the locals call it.  Go to http://www.ristorante-ceraunavolta.com  But even there, the new tourist arrivals were piling in even at nine-thirty in the evening, when we were leaving.  Saturday is arrivals day for most hotels, villas and Agriturismi in the area and in reality, we should have stayed home!  But we met some very nice Americans who obviously enjoy the good life, ordering the popular Bistecca (beefsteak) and all the trimmings.  If you guys are reading this, hope you all have a great holiday.
Well, we are three and a half months into our new home and it feels like we have been here forever; it's so perfect.  But up until last Friday it was so hot and humid, it was difficult to know which doors and windows, if any, to leave open to try to get some breeze.  But thankfully, Friday it rained, not a lot and the humidity broke, so the new tourists will be enjoying themselves in lower temperatures of around 26 degrees centigrade instead of 35.  However, come tomorrow the temperature will start rising again!  But we don't care about that, life eeez good, life eeez now!
Last Friday night we went back to L'Osteria Casa Chianti, also packed with both tourists and locals, so it's essential you book a table there.  http://www.osteriadicasachianti.it  There was a fabulous sunset that night and when the owner, Massimiliano, called the diners out of the upstairs restaurant to a balcony, chairs scraped and people fell over themselves in the rush to get photos.  You would think that a UFO had landing or something!  Unbelievable!  OK, I guess we do take these things rather for granted being residents, but nevertheless!  My man of course, thought the whole thing hilarious.  I must have grumbled too loudly as he looked at me questionably and with a frown on his face.  "Am I embarrassing you?"  I asked.  "How could you do that, I'm sat at another table!"  He roared with laughter….  Oh very funny.  (I still love him)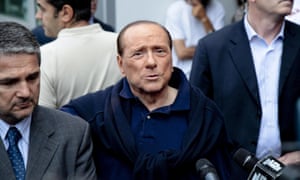 So how is poor old Silvio doing?  Well, he came out of hospital last Tuesday, looking very tired and older, and is now convalescing.  We wish him well.  It also seems that he is now finally selling his ownership if AC Milan football club to Chinese buyers despite his earlier misgivings.  His already inflated bank account will increase by 400M Euros over the next two years.  "I'm selling the club to people who can bring it back to where it belongs"  He said.  Ah, Thats OK then.
Well, time to think about Sunday lunch.
Wishing you all a happy and relaxed week and we'll speak again soon.
Salute June x
PS Look out for the 60% discount on downloads of 'My Father, The Assassin' starting Saturday July 23rd and lasting seven days.  Visit http://www.amazon.com/author/junefinnigan